GROPER TRAIN: Search for the Black Pearl
Directed by 2008 Academy Award® Winner Yojiro Takita ("Departures")!
In 1934, the world's largest black pearl disappears. Years later, Gohei, a dying war veteran claims to know the whereabouts of the coveted jewel. With his last breath, he utters the words "pussy print" to his wife Matsuko — and the mystery is on!
Unable to crack the mystery alone, Matsuko enlists the help of the world famous detective, Ippei, to decipher the cryptic message and track down the black pearl. However, when the investigation proves to be too complicated for even the talented Ippei to handle, the famous mystery writer Seicho Matsuki gets involved. The search turns into an all out free-for-all as each party sets its sights on the legendary black pearl. Who will find it first?
Release Year: 1984
Executive Producer: Daisuke Sawaki
Director: Yojiro Takita
Starring Yukijiro Hotaru, Kaoru Kaze, Naoto Takenaka, Shuji Kataoka, Kazumi Kimura, and Serina Miyabi
Cinematography: Yoichi Shiga
Editor: Shoji Sakai
Subtitles: English
TRT: 64 minutes
DVD FEATURES
Japanese Language with English Subtitles
Widescreen Presentation
Featurette: Mr. Pink talks about "Riding the Groper Train"
Cast and Crew Biographies and Filmographies
Original Artwork
International Trailer
Sneak Peaks: More Pink Eiga Trailers
DVD region 0 – plays worldwide

Festivals
New York Asian Film Festival 2009
Zipang Film Festival 2010 (London, UK)
New Horizon Festival 2011 (Poland)

Links
IMDB Page
Facebook Page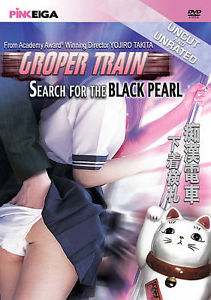 BUY THE DVD FOR $8.75
GROPER TRAIN – Search for the Black Pearl from Pink Eiga Inc. on Vimeo.